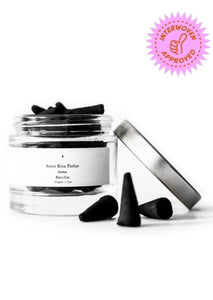 SAINT RITA PARLOR RITA'S CAR INCENSE
You know we've got high standards when it comes to incense, and we think Saint Rita Parlor's Rita's Car Incense just may be the finest, most elegant stuff out there. Want your home to smell like Interwoven? Here ya go. This is usually what we've got goin in shop. This incense is comprised of over 18 rare and organic essential oils, and is handmade by Saint Rita Parlor in Los Angeles, California. 
Notes: worn leather seats, fresh cut foliage, musk, tobacco, whiskey, and rare coins.
25 pyres | 2.0 oz
Burn time: 20 minutes
"Absolute favorite"
"Rita's Car is extraordinarily complex. As the previous reviewer wrote, it starts smokey but grows sweeter throughout the day. I imagine this is what George Clooney might smell like." (balladofthebirddog.com, 2019)
"Beautiful scent"
"Love the way it smells on my skin. It starts out pretty smoky and get sweeter as it matures. It wears close to the skin. Really beautiful." (balladofthebirddog.com, 2019)